!-DOCTYPE html PUBLIC "-//W3C//DTD XHTML 4.0 Transitional//EN" "http://www.w3.org/TR/xhtml1/DTD/xhtml1-strict.dtd">
PIPPA DARBYSHIRE
Welcome page.


Pippa Darbyshire est venue peindre en France.
Elle est tombée amoureuse de la Baie de Somme et a décidé d'y vivre. 
Pippa et son mari ont restauré l'ancien Hotel de la Gare,
le Relais de la Baie de Noyelles sur Mer
pour y ouvrir une Galerie d'art et Salon de thé.

Vous pouvez y découvir les oeuvres de Pippa dans l'atmosphére dé d'un café.





Pippa Darbyshire came to France to paint. 
She fell in love with the Baie de Somme and decided to come here to live.
She and her husband have restored the old hotel, Relais de la Baie, in Noyelles sur Mer 
and opened it as an Art Gallery and Salon de thé  
You can see Pippa's painting and talk to her about her work in the atmosphere of the café.


RELAIS DE LA BAIE
1 route du Crotoy
80860 Noyelles sur mer

tel :  03 22 23 50 20
email :  relaisdelabaie@hotmail.com  
Relais de la baie cafe and gallery opening times.
Map.
---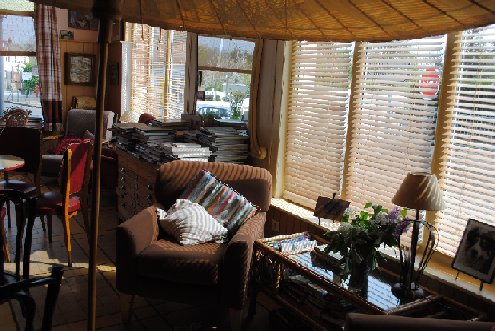 ---